Issue 15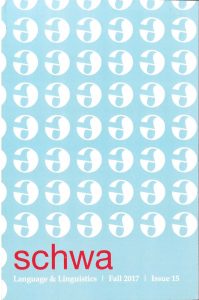 Read our Fall 2017 issue by clicking on the link below:
---
Poems
The Ballad of the Three Linguists
Joshua Sims
Cacophony on a Wednesday Afternoon
Daniel Daw
Shall Earth Desire to Hear Me
Daniel Daw
A Poem
Forrest Markham
No Compromise
Jane Christensen
Autumn
Katie Fastabend
She Became Another Building, Broken Open
Kelly Burdick
Star-Scintillated Showers
Kelly Burdick
The Oarsman's Lament
Kelly Burdick
After the Carol
M. Anthony C.
Essays
The Visigoths and the Spanish Language
Aaron Snow
i Before e Except After c
Amy Johnson
Descriptivism vs. Prescriptivism: Freedom of Speech in the 21st Century
Ashley Harris
"Look at Mommy!": Complex Deictic Pronouns in Baby Talk
Aspen Stander
Punctuation: A Battle between Martin Harris, Oliver Cowdery, and John Gilbert
Breanna Call Herbert
Say It Ain't a Problem: Keeping Ain't Alive
Christina F. Crosland
Slow Down, It's Not a Race . . . Or Is It?
Christinah Mulder
Introducing Lummy Deadlongs: Extrinsic Characteristics of Successful Literary Neologisms in English
Elizabeth Hanks
Should MALL Stay or Should MALL Go: Why Secondary Mobile-Assisted Language Learning in Primary and Secondary Schools Should Not Be Dismissed
Haylee Jameson
Language Contact and Attestation Gap of Old Norse Lexemes
Kevin Zalewski
Kate DiCamillo's Perfect Resolutions
Makayla Okamura
Sound Symbolism in the Armenian Language
Micah Wood